Any digital marketing campaign to promote a website is incomplete without SEO (Search Engine Optimization). SEO is one of the most vital elements that determine the success or failure of any business website.
SEO is required for all businesses, from a startup to multinational corporations. These are the top 10 best SEO practices that will increase organic traffic on your website:
When you begin with any SEO campaign, one of the core requirements is a well-developed keyword list. Your SEO activities should aim to secure high organic rankings for the most relevant keywords related to your business. Once you have identified relevant keywords, it would be easy to develop organic content targeting your users according to their search intents. 
Remove irrelevant pages from your website 
The central element of any SEO campaign is the audience. If you have a large number of pages failing to deliver value to your audience, your rankings will decline. Additionally, having a lot of pages on your website can harm your website's loading speed, one of the key ranking factors on Google. That is why it is better to remove pages with no backlinks, lower sessions, and high bounce rates. 
Write your metadata strategically
To improve your presence in the SERP (Search Engine Results Page), your approach should not be limited to including relevant keywords in your meta titles and descriptions. It is necessary that you optimize this data for higher organic engagement on your website. An attractive meta description will provide a higher click-through rate and boost relevant traffic on your website.   
Your page's title tag is a short description of the content published on the page. It is the first line of any page that Google displays in its organic search results or Organic Traffic. As per Google's algorithm, it is one of the most crucial elements in page ranking. While writing page titles, keep them around 70 characters or less as any text beyond that would not be displayed in the SERPs.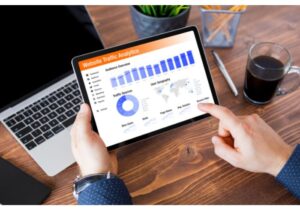 On time and occasion, you will find things on your website that needs change, like broken links, broken images, pages with error, and nonfunctional pages. Various website auditing tools on the internet provide insights into critical data regarding your business website, complemented with solutions that can be implemented to solve them. Use those tools and keep your website technically upgraded on all occasions to rank higher.    
Write content for your readers, not for the search engine
Any content on a business website is written for a targeted audience, not for an AI-based tool. You will naturally rank higher when you create quality content that focuses on delivering value rather than improving your SEO. Identifying the key problems customers face and deploying solutions to them through your content will improve human engagement on your website and please search engines simultaneously.    
Obtain backlinks with Digital PR
A core ranking factor of any website on a search engine is backlinks. There are many backlink development strategies, but most are difficult to scale. One of the most effective and trustworthy ways to generate high-quality backlinks is Digital PR. You can either write press releases, publish data-driven content or become a source of news. Sending your digital PRs to relevant organizations is the most effective way to generate high-quality backlinks at all times. 
Optimize your meta descriptions
When you publish a page on the internet, each page possesses relevant metadata in the space between the relevant <head> tags. This space allows you to insert short descriptions, relevant information, or any other metadata about the page, which can help crawlers easily access the page's contents. While drafting meta descriptions, try to be as concise as possible. At the same time, try to write action words and include calls to action in your metadata to make it relevant! 
Alternative text descriptions, popularly known as ALT Tags, are elements of the HTML used to describe images and videos uploaded on a web page. They display relevant images and videos to Google's algorithm in whichever form they are published (i.e., visual or audio-visual). ALT Tags combined with targeted keywords for the relevant webpage can always help you rank higher. 
Publish regular and relevant content
In any content publication strategy, consistency is the key to success. Try to publish relevant, good-quality content on your website as often as possible. Regularly updated content is one of the best indicators of a website's relevancy. Repeat relevant keywords at the beginning and the end of the article and twice or thrice throughout the article, depending on its length. You can also put links to helpful resources about the topic from your website and from other websites if you find them helpful.
Parting Note… 
In the end, you must remember that your website should deliver your audience what they are looking for, i.e., top-quality content, information trustworthiness, and search relevance. If you incorporate these three points in your SEO strategy, your campaign will certainly yield desired results. 
There are also various targeted aspects of any SEO campaign like keyword research, metadata creation, and Digital PR, which are crucial to accomplish your SEO goals. That is why it is recommended to get them done by experts. 
SEOWebplanetsolutions is one of the leading digital marketing companies that possess experience and expertise in managing effective SEO campaigns. To know more about our customised SEO solutions, get in touch with our experts.