Mastering Google My Business: A Prescription for Doctors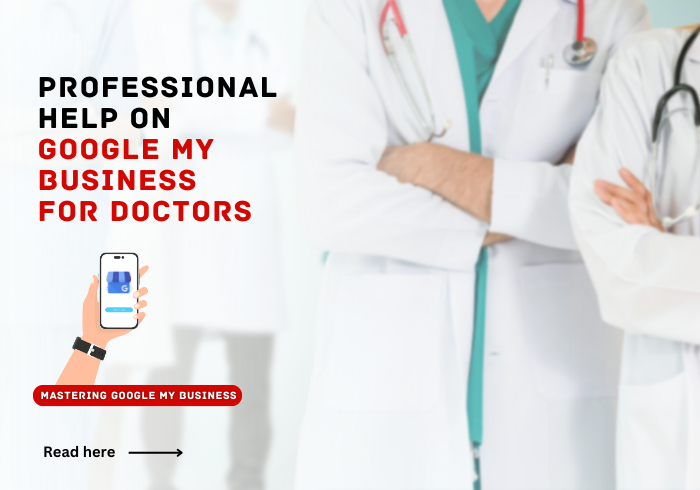 Establishing a strong online presence became imperative for healthcare professionals, and Google My Business (GMB) offers a potent prescription for success. Delve into the world of GMB for doctors, exploring its immense benefits, optimization strategies, and how professional help can elevate your practice to new heights.
Digital Health Revolution
The patients' behaviour evolves with a continuously evolving landscape. More and more individuals turn to the internet to find healthcare providers. This digital shift has made Google My Business an indispensable tool for doctors looking to connect with patients in the digital realm.
Unveiling the Potential of GMB
Google My Business is more than just a listing, it's a dynamic platform that empowers doctors to showcase their expertise, gain visibility, and build patient trust. With GMB, your practice can become more discoverable, accessible, and authoritative in the eyes of both search engines and potential patients.
Anatomy of a Well-Optimized GMB Profile
Much like a physician's careful examination, optimizing your GMB profile requires precision and attention to detail. Here are some key elements that should be part of your optimization strategy:
Accurate Business Information
Ensure that your practice's name, address, phone number, and website URL are up-to-date and consistent across all online platforms. This consistency builds trust with both Google's algorithms and prospective patients.
Engaging Photos and Videos
Visual content is a powerful tool in the GMB arsenal. High-quality images of your clinic, staff, and educational videos can captivate potential patients and make your practice stand out.
Informative Business Description
Craft a compelling and concise business description highlighting your specialization, expertise, and patient-centred approach. Resonates with your target audience with proper language.
Patient Reviews and Ratings
Patient reviews are your online reputation's lifeblood. Encourage satisfied patients to respond or review professionally to positive and negative feedback. Your responses demonstrate your commitment to patient satisfaction.
Services and Appointment Booking
List the medical services you offer, along with accurate pricing and availability. Enabling appointment booking directly through GMB can streamline the patient acquisition process.
Regularly post updates, articles, and health tips to engage with your audience. It also signals to Google that your profile is active and valuable.
Get the Professional Touch
While optimizing your GMB profile is essential, it can be complex, especially for busy medical professionals. This is where professional help comes into play. Consider partnering with digital marketing experts specializing in healthcare to maximize the potential of your GMB listing.
How SEOWebPlanet Help Can Elevate Your GMB Presence
Strategic Optimization: Experienced professionals deeply understand GMB's nuances and can tailor your profile to attract your ideal patient demographic.
Review Management: They can develop strategies to encourage positive reviews and effectively handle negative feedback, preserving your online reputation.
Content Creation: Professionals can create and curate engaging content showcasing expertise and keep your GMB profile fresh and active.
Analytics and Insights: Digital experts can fine-tune your GMB strategy for optimal results by tracking performance metrics, ensuring your practice remains competitive in the digital healthcare landscape.
Compliance and Updates: Stay abreast of Google's ever-evolving algorithms and ensure your profile complies with all guidelines.
The Healthy Future of Your Practice
In a world where digital presence is often the first point of contact between patients and healthcare providers, Google My Business is your clinic's digital front door. By investing in a well-optimized GMB profile and considering professional assistance, you're reaching patients where they are and setting the stage for a thriving, modern medical practice.
Partner with Us for GMB Success
Ready to elevate your medical practice's online presence with Google My Business? Let us be your digital health partner. Our team of experts helps healthcare professionals like you harness the full potential of GMB. Contact us today to schedule a consultation and embark on your journey toward a healthier, more visible practice.